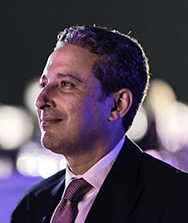 Thank you for visiting the virtual world of Oman Refreshment Company SAOG ("OmanRefCo") Group, a public traded company in Muscat Securities Market – MSM, which is presented through this newly revamped comprehensive online communication platform.
We, at OmanRefCo, are immensely proud to bring world-class beverages and convenient food from prestigious brands to the markets of Oman, Algeria, and our export markets in association with our partner PepsiCo.
Our successful association with PepsiCo dates to 1974 and helps in bringing excellence in our operations esp. in bottling of beverages with the highest standards and employing best practice tools in manufacturing, marketing, and distributing strong international brands.
Our accreditations in Quality, Food safety, Health and Safety are a true reflection of our unwavering commitment to excellence. Customer and consumer preferences are at the helm of OmanRefCo's vision, which are totally inscribed in its 5 core values, namely, "Quality, Integrity, Meritocracy, Commitment, Respect" and we make sure that these values are consistently reflected not only in our operations in the Sultanate but throughout our extended international operations across the MENA region including our recent acquisitions in Algerian market, namely Atlas Bottling Corporation SPA.
Excellence in quality and dedicated customer service has enabled us to successfully introduce new consumer packaged goods and beverages like Topfuit natural fruit drinks and incorporate international brands of choice like Gatorade and Lipton Iced Tea in our offering and channel networks. At the same time, we are fully committed to make OmanRefCo a safe & rewarding place to work for, and to constantly provide the opportunity for our associates to develop and grow further in this competitive environment while making ORC a preferred choice as an employer.
As a responsible corporate citizen, OmanRefCo aims at contributing positively to the society and continually endeavors to execute various ESG strategies. Several initiatives are being taken in the field of plastic reduction, green energy, education, sports, youth, culture, and other key areas of development of the society.
As we are always looking for ways to provide new value-added products & services to our consumers and customers, we will be honored to receive your valuable suggestions & feedback.
We hope you will enjoy your tour of our virtual communication platform.
Youssef Ezzikhe
Chief Executive Officer